Elementary Announcements
Please visit our "Homepage" MNCS Website for updates, current events and MNCS News.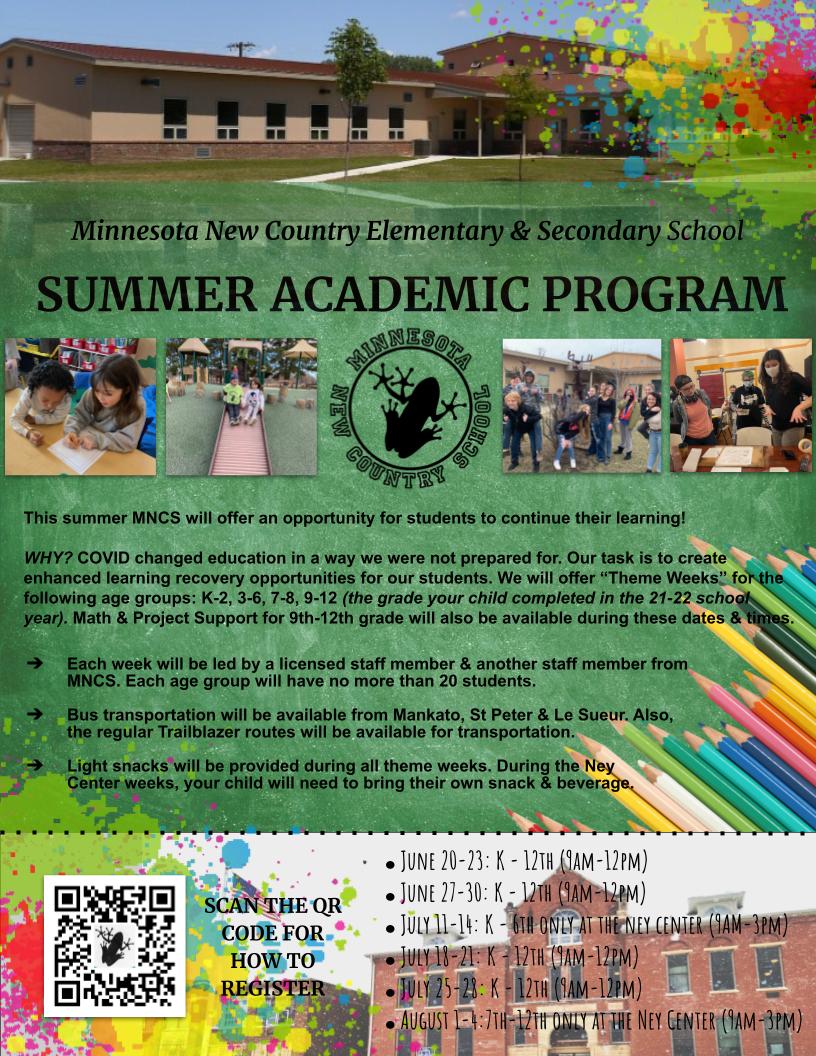 Minnesota New Country School Summer Enrichment!
We are offering "Theme Weeks" for the following age groups: K-2, 3-6, 7-8, 9-12 (the grade your child completed in the 21-22 school year)
Math and Project Support for 9th-12th grade will also be available at the high school during these dates and times.
The weeks will be as follows:
June 20-23: K-12 (9am-12pm)
June 27-30: K-12 (9am-12pm)
July 11-14: K-6 only at the Ney Center (9am-3pm)
July 18-21: K-12 (9am-12pm)
July 25-28: K-12 (9am-12pm)
August 1-4: 7-12 only at the Ney Center (9am-3pm)
Each week will be led by a licensed staff member and another staff member from MNCS.
Each age group will have no more than 20 students.
Bus transportation will be available from Mankato, St Peter and Le Sueur. Also, the regular Trailblazer routes will be available for transportation.
Light snacks will be provided during all theme weeks. During the Ney Center weeks, your child will need to bring their own snack and beverage.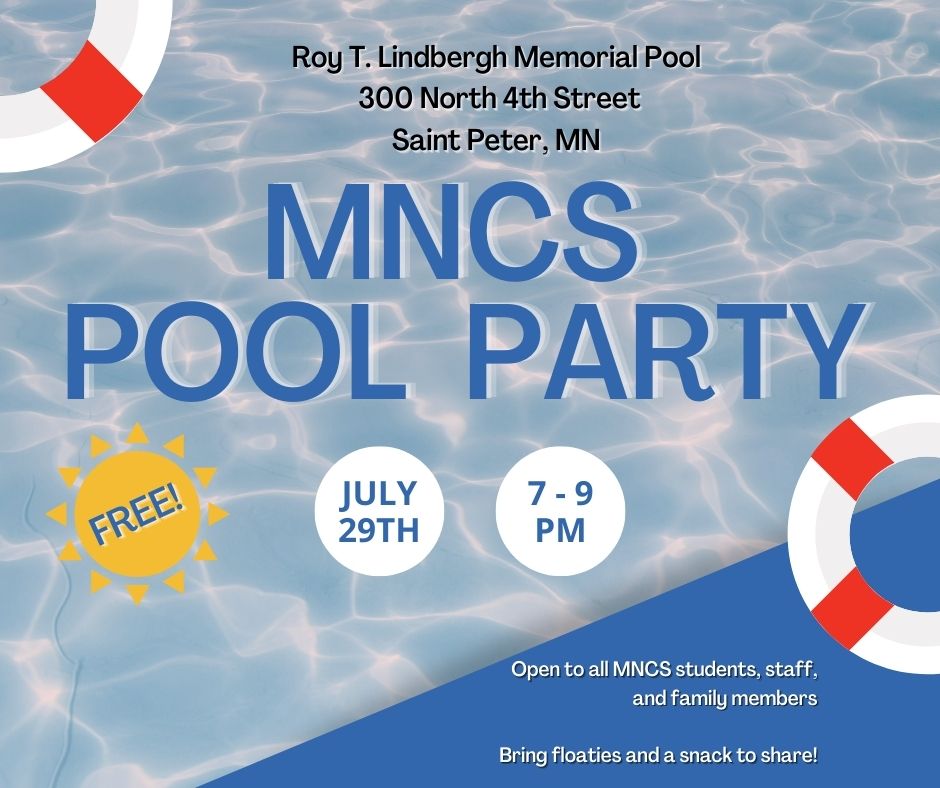 MNCS Nuts + Bolts has rented the St. Peter outdoor pool for MNCS students, staff, and families to enjoy on Friday, July 29 from 7 p.m. - 9 p.m. We know that having students from so many different communities means that kids don't always get a chance to see one another during the summer, so we try to have a fun activity for people in the summer.

What: MNCS Summer Pool Reunion
Where: Roy T. Lindenberg Memorial Outdoor Pool in St. Peter (300 North 4th Street)
When: Friday, July 29th 7 p.m. - 9 p.m.
All MNCS students, staff, and family members can come to enjoy the pool! Bring a treat to share. Your favorite inflatable toys are welcome, too!
MNCS Nuts and Bolts is back in action!!!
We are going to do the Flower Power Fundraiser again!
Are you dreaming of warmer weather, springtime, and sunshine? So are we! Planning a garden is a really great way to pass the time when it's cold out. Who doesn't love to look at photos from a garden catalog and dream of how great everything will smell and taste when it's in your very own yard?
This year, Nuts + Bolts is hosting an online fundraiser with Flower Power Fundraising. All you have to do is dream about your garden and then order some things from the online catalog. Here's the link:
http://NUTSANDBOLTS.fpfundraising.com
It's as easy as that! All proceeds from this fundraiser will benefit MNCS. You can help us grow by planting some things that grow --- pretty great, right?
Thank you for supporting the students and staff at Minnesota New Country School!
Here's to dirt under our fingernails and grass stains on our knees!!
ALL MNCS Families, New, and Existing Students Need To Be Registered through JMC!
If you have not done so already, you will need to log into our JMC portal and make sure ALL of your forms have been submitted (double-check even if you have already filled them out).

If you have any questions about the process that the video is unable to answer or are unable to log in, please contact us via email:

Jake Zeiher - [email protected] or

Nick Ryan - [email protected]

UPDATE Contact Information:

Please update your contact information in the JMC Portal. Starting in January 2022, you will be receiving emails through MNCS Website/JMC (School Announcements, Covid Response, along with School Closing, etc).
For more information and log in, instructions CLICK HERE

We appreciate your prompt attention in this matter and making sure these items are updated and completed! Thank you for your support of MNCS!
The Lions Club has a recycle collection box outside of MNCS. They are collecting plastic shopping bags (Target, Walmart etc.), there is a list on the outside of the white box.
They have 5 months to reach their goal, once reached they will get a "By the Yard" bench to be able to place it in town.
Did you know you could support "Minnesota New Country School" while you shop on Amazon? On your next Amazon purchase shop through AmazonSmile - AmazonSmile donates 0.5% of your purchases to MNCS, at no extra cost to you! Already set up, THANK YOU! If you are using AmazonSmile on your mobile app, it may need to be renewed.