ALL MNCS Families, New, and Existing Students Need To Be Registered through JMC!
If you have not done so already, you will need to log into our JMC portal and make sure ALL of your forms have been submitted (double-check even if you have already filled them out).

If you have any questions about the process that the video is unable to answer or are unable to log in, please contact us via email:

When logging in to JMC, please make sure the school year drop-down menu has an orange '2022-2023' selected (see the graphic below).

Jake Zeiher - [email protected] or Nick Ryan - [email protected]
UPDATE Your Contact Information
Please update your contact information in the JMC Portal. Starting January 2022, you will be receiving emails through MNCS Website/JMC (High School Announcements, Covid Response, along with School Closing, etc).

For more information and log in, instructions CLICK HERE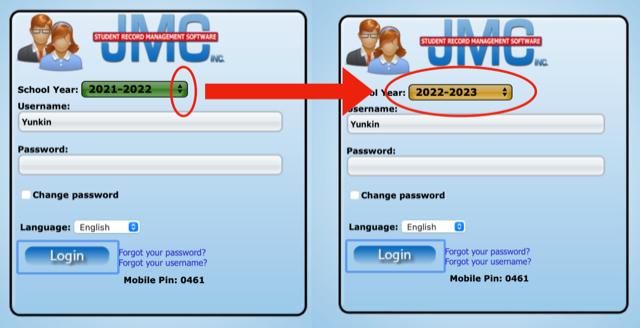 SPEAKERS:

SEMINARS:

No speakers at this time

No Seminars at this time

ACTIVITIES:

CLUBS:

Junior High Knowledge Bowl (JHKB) Meet Dates

12/12/22 - Sub Regional Meet - no location yet

12/19/22 - Regional Meet (if we qualify) - no location yet

JHBK Practice is every Tuesday and Thursday at 10:30am in the Silo.

Senior High Knowledge Bowl (SHKB) Meet Dates

1/6/23 - at Hosana in Mankato

1/27/23 - at Hosana in Mankato

2/3/23 - at Hosana in Mankato

2/14/23 - at Fitzgerald in Mankato

2/24/23 - at Hosana in Mankato

3/8/22 - Sub Regions - St. Clair

Speech

Speech will start mid December!

The cost for speech is $25, payment is available through Square Online Payment, or pay Jenn with cash or a check. Payment is due: December 1, 2022

Dungeons and Dragons Club - Every Tuesday at 2pm

Board Game Club - Every Wednesday at 2pm

Chess Club - Every Thursday at 2pm
PSEO, CAREER AND COLLEGE INFORMATION
The Career Corner Newsletters are a great way to learn about many different types of careers. Check out careers and educational opportunities available. Read about skills learned in school that help prepare students for the workforce. Watch a short video about Vocational Rehabilitation Services and how they help students with disabilities plan the journey from school to what comes next.
Post-secondary Enrollment Options (PSEO) is a program that allows 10th-, 11th- and 12th-grade students to earn both high school and college credit while still in high school, through enrollment in and successful completion of college courses at eligible participating post-secondary institutions. For more information click here
Planning to do PSEO Next Year? Or are you just curious what PSEO is all about and how it works at MNCS? contact Nichole Kotasek to schedule a meeting
For more information about PSEO and College and Career Planning, click here
Amazon - Did you know you could support "Minnesota New Country School" while you shop on Amazon? On your next Amazon purchase shop through AmazonSmile - AmazonSmile donates 0.5% of your purchases to MNCS, at no extra cost to you!
Check us out on Social Media