Saint Peter Library Events for Teens
AniManga Club
Ages 13 & up
Gather with other teens ages 13-18 to read your favorite Manga and watch Anime, while joining in lively discussions and activities. Participants will receive a copy of the selected graphic novel prior to each meeting.
Meets first and third Thu. each month, 4 p.m. starting Sept. 7
SPPL Meeting Rm.
FREE-Registration required
https://secure.rec1.com/MN/stpeter-mn/catalog?filter=c2VhcmNoPTI2MzYwMTc=

Dungeons and Dragons
Ages 12 & up
The library will offer regular playing time and space to meet other teens who have a love of role-playing games. All playing abilities are welcome, whether you're an avid fan of D&D or want to see what the game is all about.
Wed., 4 p.m. starting Sept. 6
SPPL MN Rm. & Meeting Rm.
FREE- Registration required
https://secure.rec1.com/MN/stpeter-mn/catalog?filter=c2VhcmNoPTI2MzYwMjA=
Teen Queer/Straight Alliance Craft with Pride
Ages 13 & up
If you identify as lesbian, gay, bisexual, transgendered, queer, questioning, two-spirited, or an ally, this program is for you. Come join us for an afternoon of crafts, snacks, and fun! This will be a safe, positive, and friendly space. Sept. 19, 5 p.m. to 7 p.m. (drop-in anytime)
Library Meeting Rm.
FREE
https://secure.rec1.com/MN/stpeter-mn/catalog?filter=c2VhcmNoPTI2MzYwOTQ=

ALL MNCS Families, New, and Existing Students Need To Be Registered through JMC!
If you have not done so already, you will need to log into our JMC portal and make sure ALL of your forms have been submitted (double-check even if you have already filled them out).

If you have any questions about the process that the video is unable to answer or are unable to log in, please contact us via email:

When logging in to JMC, please make sure the school year drop-down menu has an orange '2023-2024' selected (see the graphic below).

Jake Zeiher - [email protected] or Nick Ryan - [email protected]
UPDATE Your Contact Information
Please update your contact information in the JMC Portal. Starting January 2022, you will be receiving emails through MNCS Website/JMC (High School Announcements, Covid Response, along with School Closing, etc).

For more information and log in, instructions CLICK HERE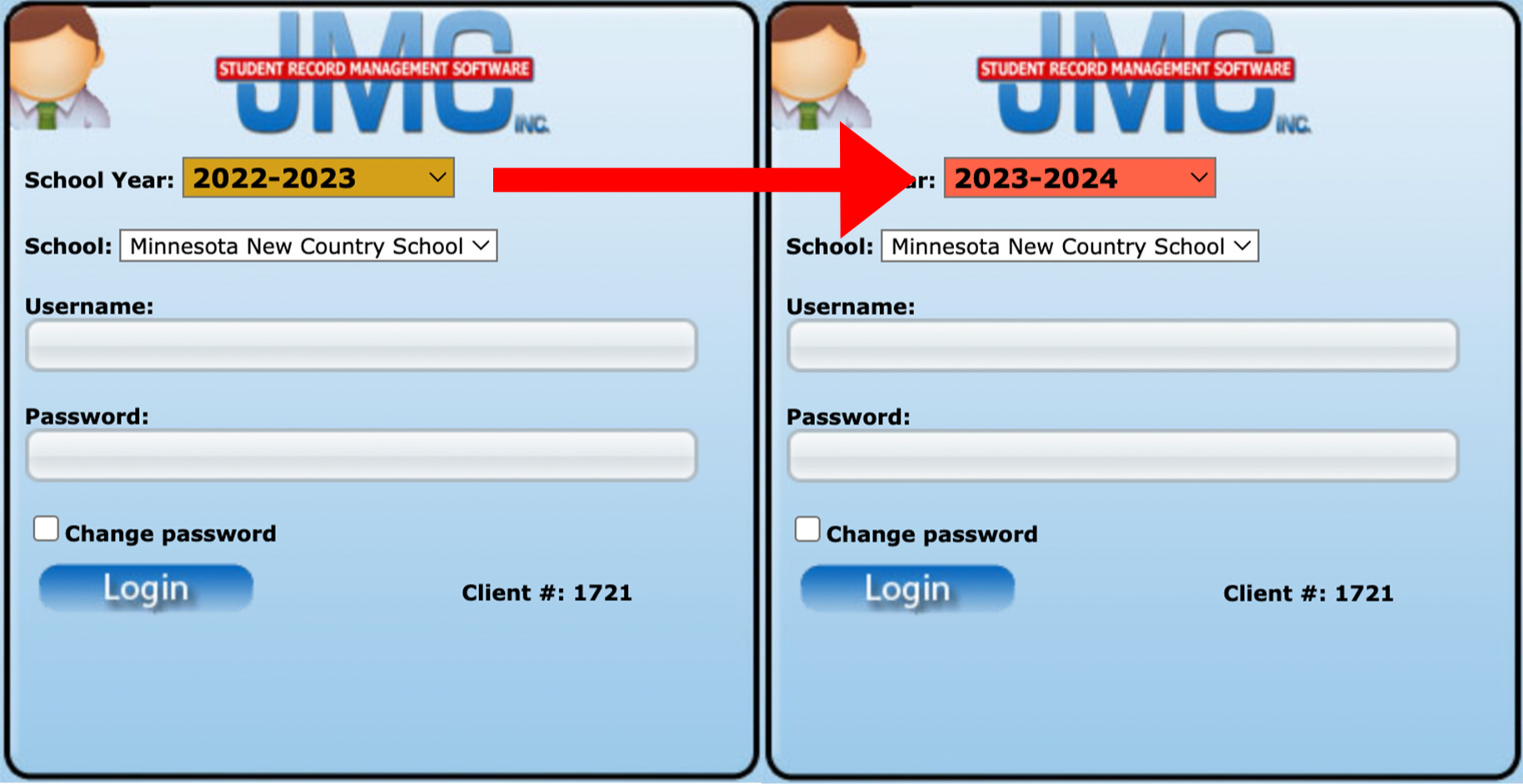 SPEAKERS:

SEMINARS:

Oct 30th Sophie Taylor from Hamline University

What If? A Study of the American Revolution and how it could have gone differently - 9/25-10/11 Monday through Thursday

Pre-Colonial America - 9/25-10/11 Monday through Thursday

Forces and Motion - 10/2-10/12 Monday through Thursday

ACTIVITIES:

CLUBS:

Senior High Knowledge Bowl (SHKB) Meet Dates

Knowledge Bowl has not started yet.

Speech

Speech has not started yet.

Dungeons and Dragons Club - Every Tuesday at 2pm

Board Game Club - Every Wednesday at 2pm
PSEO, CAREER AND COLLEGE INFORMATION
The Career Corner Newsletters are a great way to learn about many different types of careers. Check out careers and educational opportunities available. Read about skills learned in school that help prepare students for the workforce. Watch a short video about Vocational Rehabilitation Services and how they help students with disabilities plan the journey from school to what comes next.
Post-secondary Enrollment Options (PSEO) is a program that allows 10th-, 11th- and 12th-grade students to earn both high school and college credit while still in high school, through enrollment in and successful completion of college courses at eligible participating post-secondary institutions. For more information click here
Planning to do PSEO Next Year? Or are you just curious what PSEO is all about and how it works at MNCS?
MNCS Parent/Guardian PSEO Information Sessions: Virtual
For more information about PSEO and College and Career Planning, click here
Amazon - Did you know you could support "Minnesota New Country School" while you shop on Amazon? On your next Amazon purchase shop through AmazonSmile - AmazonSmile donates 0.5% of your purchases to MNCS, at no extra cost to you!
Check us out on Social Media